Cruising has always been a holiday we'd like to have tried as a family, but being unsure of the facilities, not something we had been brave enough to do. A friend of mine, Michaela Hollywood had cruised previously with P&O and had recommended it very highly, so when we were invited to go and cruise with Disney, the opportunity to tick off another item from our 'to do list' was seized with both hands.
Sailing from Port Canaveral in Florida, the itinerary was fairly basic – first heading to the Bahamas, followed by a day spent at Disney's own island of Castaway Cay followed by a day at sea before returning to port in Florida.
Transferring on the Disney Cruise Line Coach, was pleasant and the journey from Disney World in Orlando to the port seemed to pass by in no time at all. Excitement heightened when we got our first glimpse of the ship and it never left us until the day we returned to port four days later.
Getting onto the ship was a hassle as there was a customs exercise to go through because we were leaving the USA and returning. There was a dedicated check-in for special assistance, which did speed up the process, but we only discovered this facility by asking questions, no one on the Disney Cast Members highlighted its existence.
We received a great welcome on board and were directed to our cabin, where our baggage was already waiting for us. We liked this part of the service very much. A note on the bed indicated that there was a welcome party about to begin on the upper deck, where cocktails, mocktails and ice cream would be available coupled with a welcome show from Disney characters. There was an area cordoned off so wheelchair users could get a good view, although I found a much better vantage point from a promenade deck above the stage area.
Following the party, I went back to the cabin to video this, as I thought other people would like to see it. The sound quality isn't too good as I made a bit of a horlicks of the job, but you can still look and get a sense of the facility and space of the cabin. For those of you who have difficulty watching, we had a cabin on the rear quarter of the ship. It was a large cabin with a double bed for me and my wife and a bunk bed for the children. There was a desk, tea/coffee facilities and a fridge. The restroom was also large and had lots of room to manoeuvre. There was also a huge balcony with sun loungers and still space enough for me to wheel around. All of the doors to my cabin were auto open.
The crew were especially attentive to every passenger on board, especially the waiting staff, who are appointed to you as a family and move around the ship with you each night as you are asked to dine in a differently themed restaurant. Most of the ship was easy enough to get around, although there were some areas of the ship with deep pile carpets and pushing on this surface was a chore. Nonetheless, it didn't prevent us from having a 'magical time'.
Transfers to the port of Nassau was very easy and comfortable with the staff being very attentive once again. The town of Nassau could be seen in just a couple of hours for a wheelchair user. None of the taxis or trips was wheelchair accessible, but we enjoyed the brief time here all the same.
The same disembarkation process is the same at Disney island, but we were able to spend the whole day here. Beach wheelchairs are available, but they are strictly on a first come first served basis, which is not ideal. The feeling of having to rush to ensure that a beach chair was obtained is not fun, as it is the only access to the sea for wheelchair users, who are not ambient walkers. Having said all of that, my wife insists that the beach chairs were extremely difficult to push, so we only ventured to the sea and back on the one occasion. A wooden boardwalk down to the sea would have been very helpful. I did manage to go snorkelling with the children, the water was lovely and warm, which is always a bonus. The food served on the island was all complimentary too, well in so far as we'd really paid for it in the process of paying for the cruise.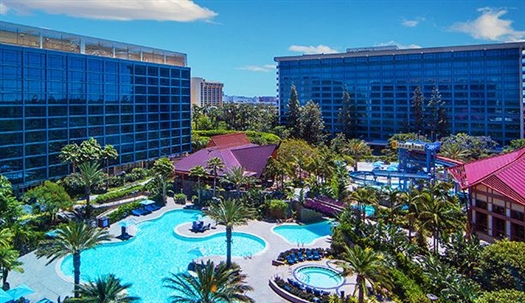 In the evenings there was some great entertainment in the theatre and a smooth deck to roll/walk along with my wife, to enjoy the marvellous sunsets. My only disappointment was the lack of access to the swimming pool. Apart from those minor issues, we enjoyed the cruise immensely.
Post Tags: accessible, wheelchair, cruise, disney, abletodoit,
Post Categories: Places Travel Advice Summer Getaways Information