In a previous post, we brought news of a flight over the Grand Canyon, Arizona and now we would like to showcase the train that travels into the National Park so that you can experience it from the ground and right on the very edge. Departing from Williams Station near Flagstaff, the train journeys north passing by Native American reservations terminating at Grand Canyon Village.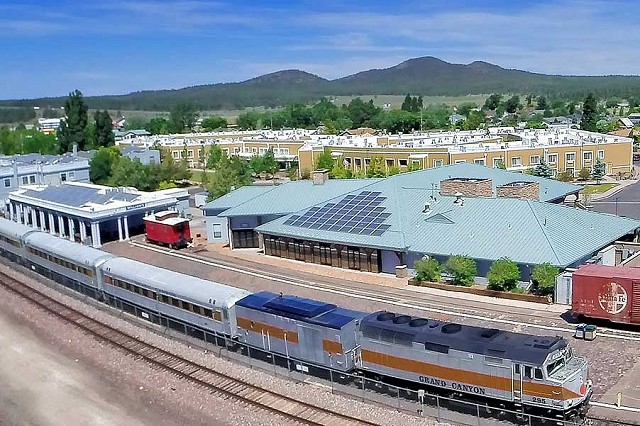 The area has a diverse climate with snowy winters and a monsoon fall which allows for the richness of plants that provide a bountiful habitat for the animals and birds, all part of the experience on the train journey. Cowboys will often accompany you on the train ride, singing traditional country songs and maybe enacting a robbery or two! Riding on authentic carriages, that have been tenderly restored, the train offers six classes to choose from, however, only two of those are wheelchair accessible.
Coach Class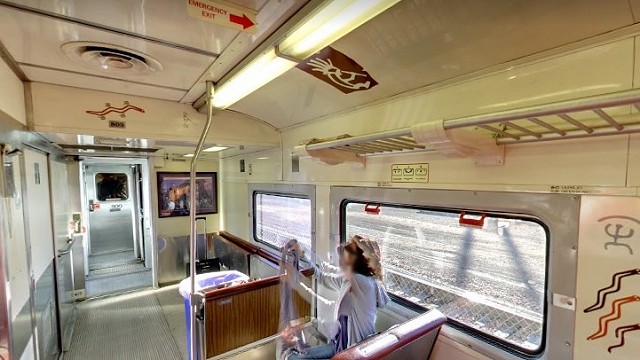 This has a 1950's era styling on comfortable bench seats. At one end of the coach the seats fold away to make room for wheelchair users. It means that you are separated from your companions somewhat, but it is close to the restroom. In the warmer months, these coaches are air-conditioned to keep the coach comfortable, with a cafe bar also open to purchase refreshments.
First Class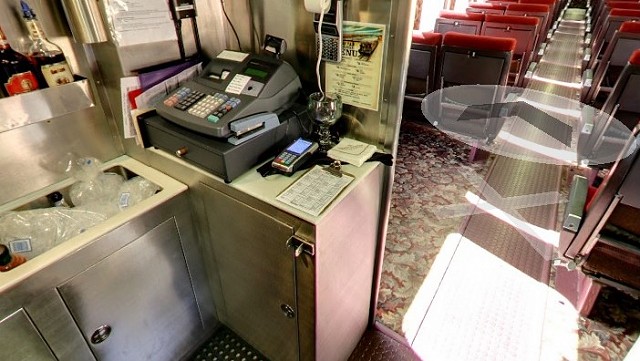 Situated right beside the refreshment bar, the wheelchair accessible spot at least affords the opportunity to sit beside your companions to enjoy the journey. Again air-conditioned, this carriage has that extra comfort with snacks and soft drinks provided, with alcohol available for purchase if required.
The Grand Canyon Train Company try to make the experience as enjoyable as possible and even offer accessible transportation within the National Park on arrival. All areas of the stations are accessible for wheelchair users and those people with service animals. To make the most out of the journey and to ensure that the best service is provided, people with disabilities are asked to contact the ticket office prior to booking on 1.800.843.8724 or you may visit the Grand Canyon Train website.
Post Tags: ada, , accessible, wheelchair, abletodoit, grand canyon train, service animals, usa, arizona, grand canyon, national park,
Post Categories: Places Travel Advice Information