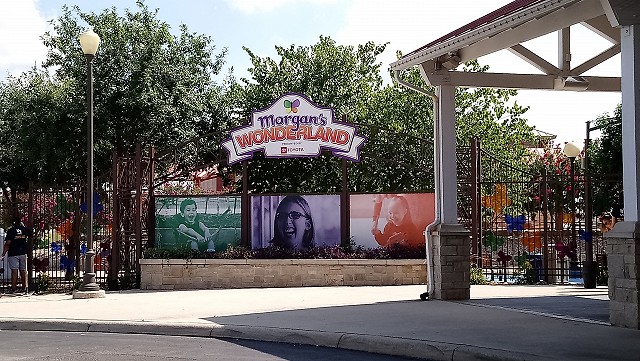 Having heard about the 'all accessible' park of Morgan's Wonderland, we could not wait to try out the facility for ourselves; and then we have to say that it was worth waiting for. Built by a family who felt the injustice of not having access to such parks for their daughter, Morgan, the park is a testament to what may b achieved with the right ambitions. Tickets for the park may be purchased online and the person with a disability is free of charge, however, please be aware that the park does not recognise all disabilities that might be considered natural in other parts of the world, so check out the criteria for this here.
Arriving At Morgan's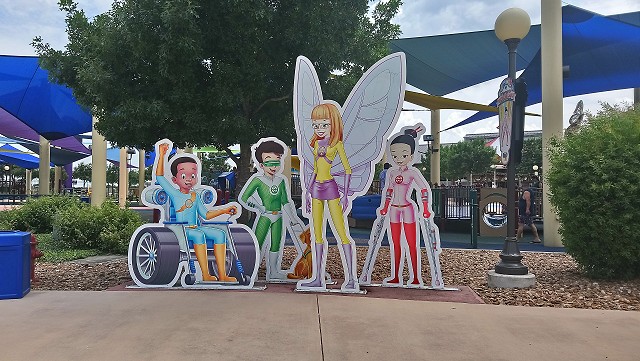 At the park, there is lots of accessible parking and due to the nature of the park's visitors not everyone can park near the entrance, but this is understandable. Once inside the park is made up of two sides, which is the theme park with rides and play equipment on one side and Inspiration Island, which is a waterpark on the other side. We headed to Inspiration Island first, as it made sense to enjoy the water and have time to dry off a little before moving over into the themed ride area.
Inspiration Island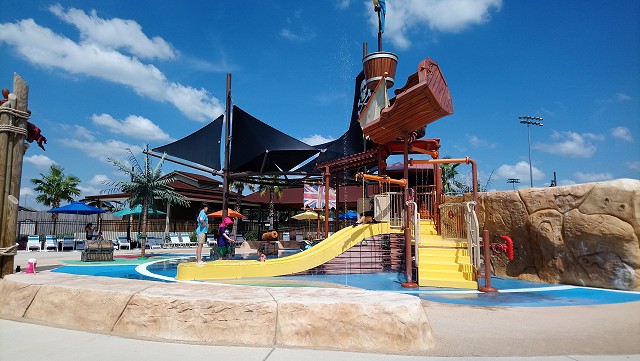 At the entrance to Inspiration Island, there is an option to swap out your regular wheelchair for a waterproof alternative and the selection and variation of wheelchairs available are surprising. There are also options to hire a private cabana if you wish and of course here is the chance to make use of their excellent changing facilities that include rooms with an adult-sized changing table and a ceiling hoist if one is required. Other bathroom facilities are also available throughout the waterpark and all are accessible, but not as well equipped as those at the entrance.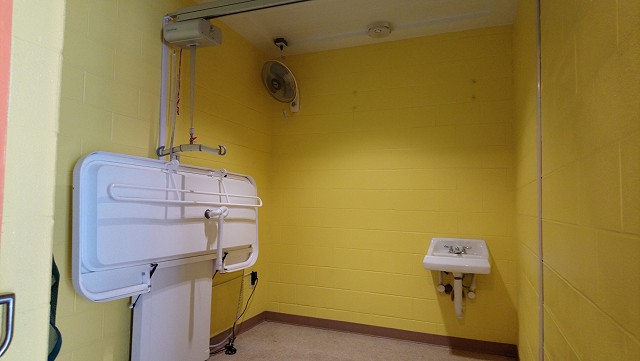 There are themed zones which designate different areas with the Island and one of them has warm water for those who may feel the shock of the cooler - but not cold, water. There are no pools within the Inspiration so there is no worry for child safety as far as falling into a pool or anything and there is also plenty of seating with shading so that it is easy to relax after a busy playtime. All of the fun is through splashing water fountains with a few small slides and a pirate climbing area, which is also wheelchair accessible. The joy of the park for lots of the visitors is the tipping water buckets, which spills hundreds of gallons within a few seconds and tips every few minutes.
Personal food and drink items are not permitted into this area of the Morgan's Wonderland, although nothing is stopping you from leaving the waterpark temporarily to enjoy food brought with you; as there are lots of picnic areas in the theme park. Within Inspiration Island itself there are food and drink options available if this is your preference anyway. There is also an abundance of water fountains dispensing cold water and you may either sip this at the fountain itself or fill your cooler bottle if this is better needed.
Wonderland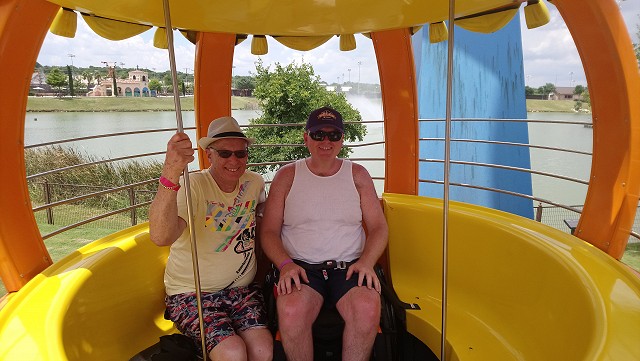 With a lake at its centre, the wonderland is more of an activity park as opposed to a traditional theme park, with an emphasis on enjoyment for all. As well as the aforementioned picnic areas, there is a water zone, which is for hand splashing activities should the water park not be an option, there are also a couple of large play parks as well as a separate area of swings, several of which are wheelchair accessible. All of the climbing frames on offer have access for wheelchairs and the only exception to this that we could see is the provision of slides. Several fairground attractions make up the wonderland as well as a sensory village which is an added bonus for those who benefit from a quieter experience. There is also a walkway around the lake just to take some time out and enjoy the weather or do your picnic away from the crowds.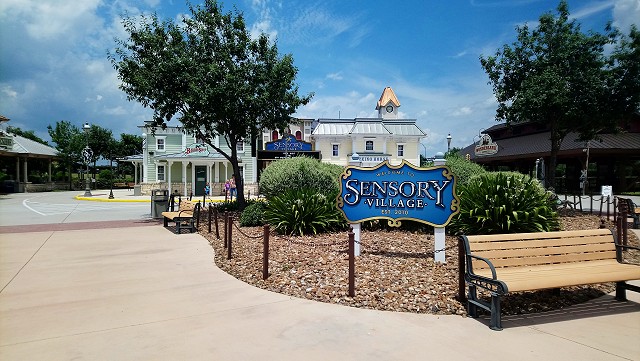 There is so much to be positive about this park and our visit was certainly a memorable one. It is not often that we are able to see families and friends enjoy, participate and experience so much enjoyment in a place that is open to everyone of all abilities. Morgan and her family have every right to be pleased with what they have been able to achieve in this park and we would happily recommend it to everyone.
Post Tags: , accessible, Autism, wheelchair, abletodoit, usa, Inspiration Island, San Antonio, Water Park, Texas, Morgans Island,
Post Categories: Places Travel Advice Summer Getaways Information