As the USA's third-largest city a population of over 2 million people, the city is both lively and crammed with things to do for every visitor its very welcoming metropolis. Being named as the Capital of Southern Cool by the GQ magazine, arts, dining, sports and parks means that visitors and locals alike can always find something to do. Close by is also the coastal region of Galveston which offers beach and water activities away from the city. In the winter months, the climate is moderate and very suitable for outdoor activities, however, the summer months are hot and sultry, which requires a good intake of fluid to avoid heat exhaustion.
Getting around Houston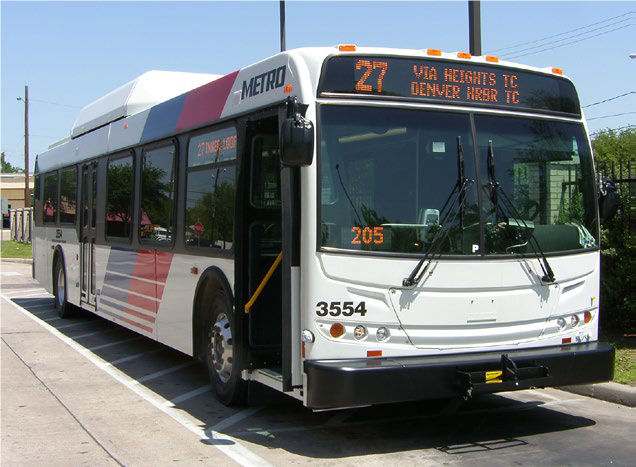 The city has a really good Metro to serve the population in the form of buses and trams which are 100% accessible. The following features are a part of the bus service in Houston
Ramps or lifts on all buses
Many METRO buses offer, upon request, a kneeling feature to assist with boarding. Standees on lifts are permitted under the ADA
Two priority-seating areas for the elderly and people with disabilities
Equipped with an easy-to-reach call bell and special securement belts designed to secure the mobility devices of patrons who use a wheelchair or scooter in two 30"x 48" wheelchair securement areas
Bus pads, sidewalk links, and curb cuts at most of our bus stops
Solid-square bus poles at bus stops
Automatic audio and visual announcements on buses at major stops, main intersections and transfer points along the route
Large, bright destination signs on the front and sides of the bus
Lighted "Stop Request" signs inside the bus for riders with hearing impairments
Transit Centers connecting bus routes in neighbourhoods across the region for safe and easy transfers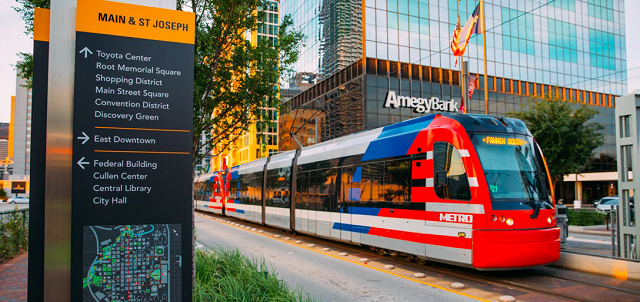 Whilst the tram service offers
All METRORail accessible stations feature audio and visual announcements explaining when the next train is arriving
Rail cars are level with the station platform for easy boarding
There are audio and visual announcements of stops inside the rail cars
Each rail car offers four areas for wheelchairs. No securements are required on the train. Riders using wheelchairs also may choose to sit in any space that is available to them
The rail car doors open automatically and have a sensitive edge that prevents closing if an object or person is detected in their path
Green Line: Provides service from the Theater District in Downtown through the Historic East End, ending at the Magnolia Park Transit Center.
Purple Line: Provides service from Downtown to Texas Southern University, University of Houston (Central Campus), MacGregor Park, and ending at Palm Center Transit Center near MLK and Griggs.
Red Line: Provides service from the Northline Transit Center/HCC to Fannin South Transit Center and numerous points in between. Featured stops include Downtown, the Museum District, the Texas Medical Center and NRG Park.
There is also Metrolift which is a dedicated transit service for people with disabilities, you need to meet the criteria for this service and apply to become a member of the scheme, so if you know ahead of time that you are going to visit Houston, then apply to the scheme Applications are available on METRO's website, RideMETRO.org, send the completed application to:
METROLift Eligibility
P.O. Box 61429
Houston, TX 77208-1429
713-225-0119
713-652-8969 TDD
Further information on this service given in the Metrolift Program Guide.
There are two taxi services which we used whilst in Houston, both offering an excellent service. Ezzlift can be booked by calling 713-252-2106 or Medibridge Transport who can be reached by calling 713-597-6550.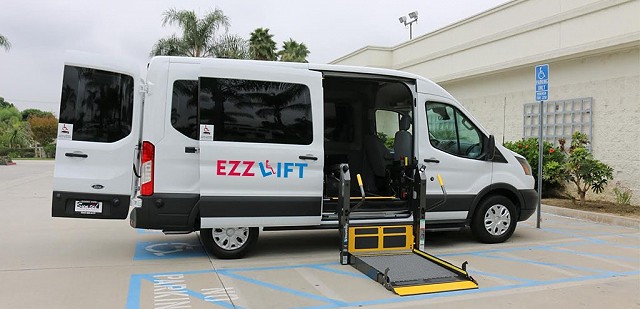 Places to Stay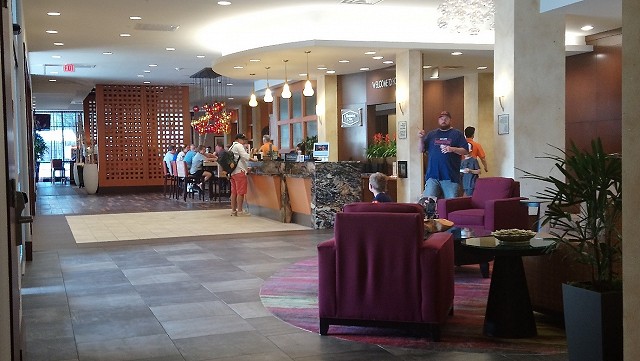 We stayed at the Hampton Inn Houston Downtown in a room with a roll-in shower and two queen beds. It was very comfortable, and the hotel offered a decent breakfast, although the breakfast room is quite small for the size of the hotel. The swimming pool is accessible to roll on to the pool deck and there is a pool chair to lower anyone who wishes to go into the pool.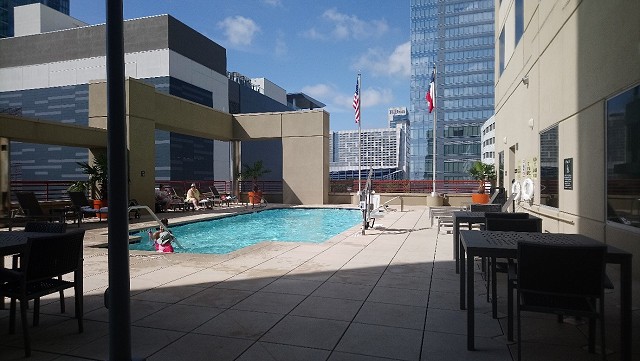 Across from the hotel was surface car parking as an alternative to the valet parking on offer. There is also a tram stop just a short walk away from the hotel, which was very handy to get about without using the car.
Other places to stay in Houston include: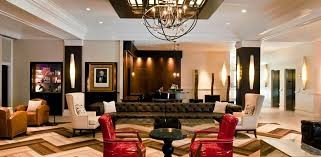 Opened first in 1924 and listed on the National Register of Historic Places, The Sam Houston Hotel underwent an extensive, locally-inspired renovation in 2013, making it a gem among venues and hotels in downtown Houston. At The Sam Houston, Curio Collection by Hilton, guests can enjoy authentic hospitality, personalized service and modern amenities, all within a historic setting.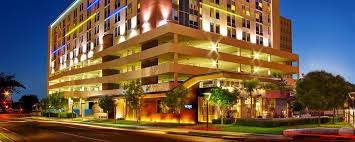 Open spaces, open thinking and open expression abound at Aloft Houston Downtown, conveniently located within just steps of countless beloved attractions, including the Toyota Center, Minute Maid Park and George R. Brown Convention Center.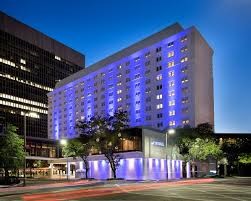 A hub of gracious hospitality in the heart of downtown Houston, The Whitehall has, for nearly a half-century, reigned as the city's premier hotel - a perfect address for business travellers, a sophisticated backdrop for Houston brides, a gem for families exploring the Space City.
Things to do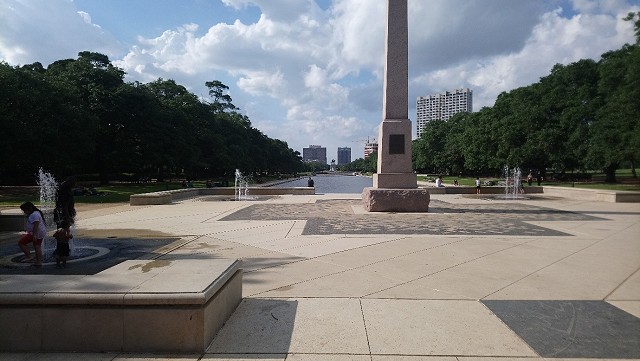 Hermann Park in Houston is an absolute delight and a lovely space to while away the hours with your family. There is so much on offer here from play parks, gardens, art, paddle boats and a railroad. The park has ample parking space and is very easy to roll around. There are lots of vendors to buy food and or drinks within the park and they are scattered around the park, so you are never too far away from one.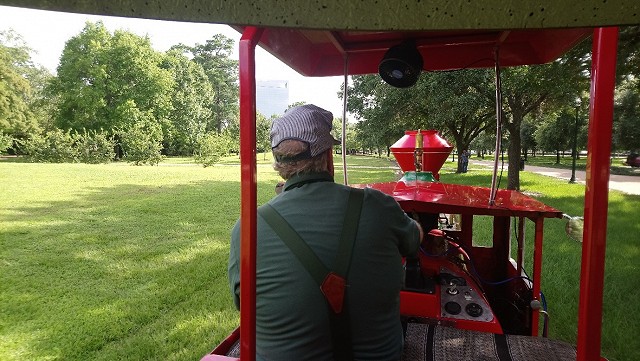 One of the highlights for me was access to the railroad. The carriage right behind the engine was wheelchair accessible via a fixed ramp on the train and an adapted platform at the station. This train has several stops en-route so you may hop-on/off as you please or enjoy a complete circuit of the park.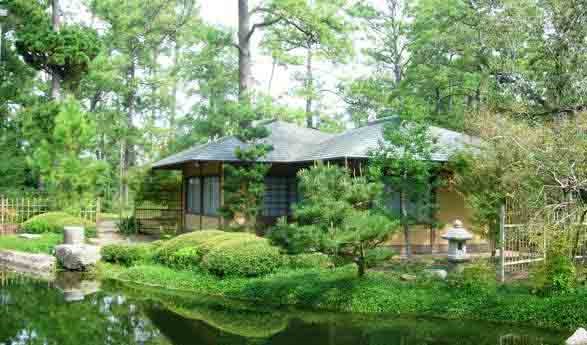 There are also gardens here to visit and enjoy, the Japanese garden is particularly beautiful and gives a real sense of the Orient. It is free to get into the garden although not every aspect of it is wheelchair accessible. The other garden we visited was McGovern Centennial Garden which has a number of sculptures to look at and enjoy.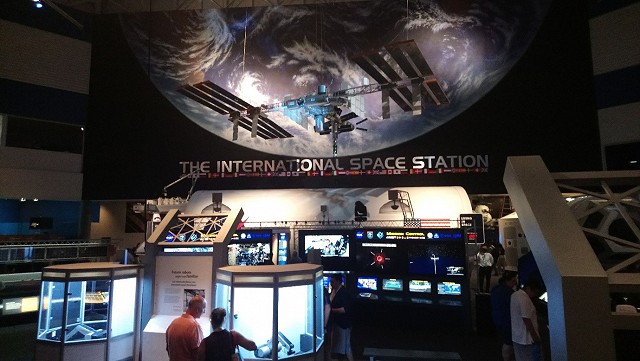 The Johnson Space Center is about an hour outside of Houston and it has many accessibility options covering several disabilities. We certainly had a very enjoyable day. There is ample parking here and a food court if you do not have the opportunity to bring your own. The centre has so much to do in respect of watching films, playing interactive games, science demonstrations etc. A fully accessible trolley ride to the working parts of the space centre.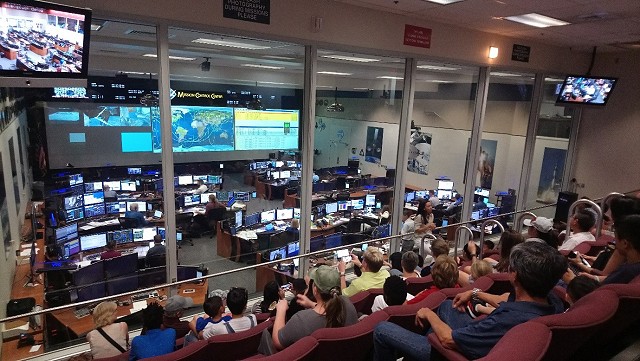 This was the control centre for the International Space Station and we were able to listen to a presentation and observe real-time communications with the station as well as follow its current flight path.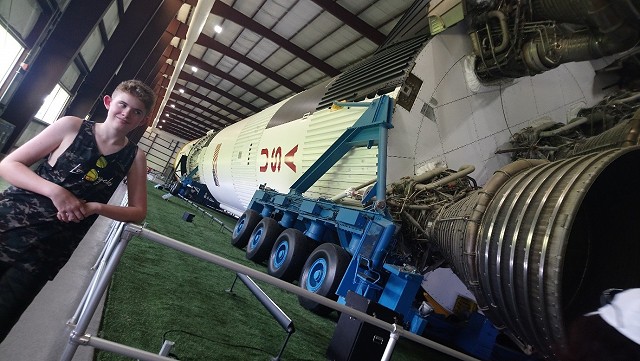 and also one to the museum area. Here we were able to view an Apollo rocket and get into the Boeing 747 which carried the shuttles back to Florida.
Was a nice way to spend the evening after being at the Space Center. There was no beach here to speak of and it truly is a boardwalk, but there was open-air entertainment here as well as rides for my children to consider. Again, a railroad which was wheelchair accessible, but I didn't lookout for any of the other rides. We were happy to enjoy the warmth of the sun, walk a little and enjoy the merriment around us. There are a number of dining options here as well as bars and coffee shops available.
Places to Dine
In the city we had to try the Cheesecake Factory, it is one of my all-time favourites and I am not sure why because I always feel guilty when I look at the calories that I am about to consume!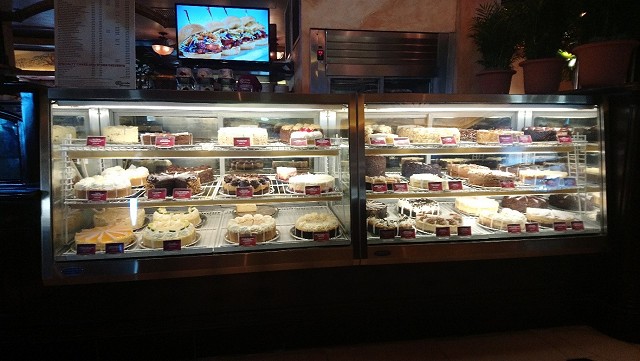 Those cheesecakes are really hard to go by and as we don't have the Cheesecake factory in Europe, I cannot help myself.
Out of town, we came across a diner by the name of Freddy's which has a 1950's feel to it.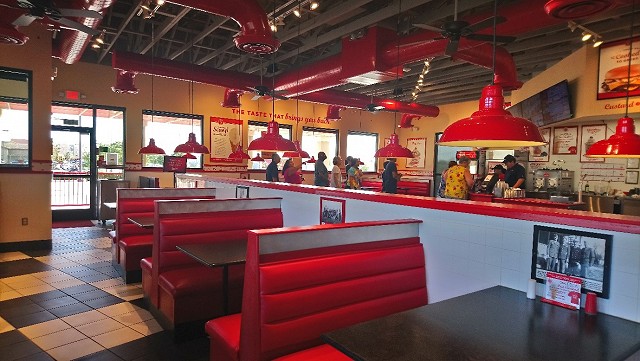 The menu did not go much beyond the burger offering, but the staff were excellent and extremely friendly, and my children enjoyed their food, especially the malted milkshakes.
Relish Bar and restaurant is an absolute delight and the food is fantastic. Open from breakfast, thru lunch and then dinner the restaurant serves all American food with a little Mediterranean twist. Bright and easy to get into, this restaurant is perfect for that something a little extra special.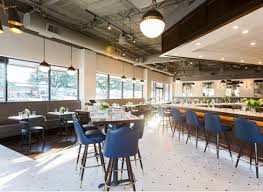 With so much to see and do in Houston, we really didn't have time to fit it all in for the short time that we were there. It is understandable that the city is developing a reputation as a serious visitor destination for the South of the USA.
Post Tags: , accessible, wheelchair, usa, able to do it, Texas, Houston, Space Center, Hermann Park,
Post Categories: Places Travel Advice Summer Getaways Information