Billed as the Live Aid concert of the current generation, the concert is to be broadcast according to social distancing rules will feature star-studded acts such as Sir Elton John, Lady Gaga and Billie Eilish. Hosted by Jimmy Kimmel and Stephen Colbert, the concert is to be broadcast by all major corporations on 18th April at 8pm EST USA, or 19th April at 1am BST for British/Irish viewers and 2am CET for Europeans. The concert will also be streamed live on services such as YouTube, Facebook Twitter and Instagram so that audiences outside of the USA can enjoy the concert too.
The benefit concert is an attempt to support and celebrate health care workers across the globe as they lead the fight against the Covid-19 pandemic and is a collaboration between the World Health Organisation (WHO) and the international advocacy group Global Citizen.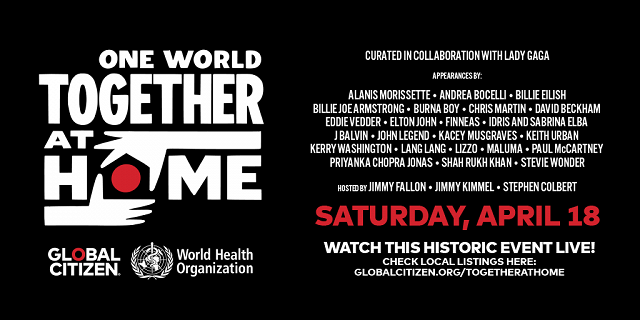 Although Lady Gaga insists that this is not a fundraising telethon as such, she is hoping that it will encourage large organisations to make a donation to the relief effort globally. Apple have already pledged $10 million to the fund and it is hoped that others will follow suit. For those who will find the concert being streamed at an unsuitable time, the format will be repeated the following day by other national broadcasters such as the BBC and RTE television.
Others amongst the performing line up include - Alanis Morissette, Andrea Bocelli, Billie Joe Armstrong (Green Day), Burna Boy, Chris Martin, David Beckham, Eddie Vedder, Finneas, Idris and Sabina Elba, J. Balvin, John Legend, Kacey Musgraves, Keith Urban, Kerry Washington, Lang Lang, Maluma, Sir Paul McCartney, Priyanka, Chopra Jonas, Shah Rukh Khan and Stevie Wonder.
Post Tags: , globalcitizen, who, concert, stayathome, oneworld,
Post Categories: Information